16
Apr2017
Al Meera recognizes QU students for the efforts at the exhibition
Al Meera Consumer Goods Company (Q.S.C.) recently received the CSR Responsible Leadership Award, in recogonition of its leading part in that field, at a special ceremony held at Qatar University (QU), to launch the CSR Report 'the National Book' Qatar 2016. The award ceremony was held in the presence of HE Salah Bin Ghanim Al Ali, the Minister of Culture and Sports, who received "the CSR person of the Year 2016" award.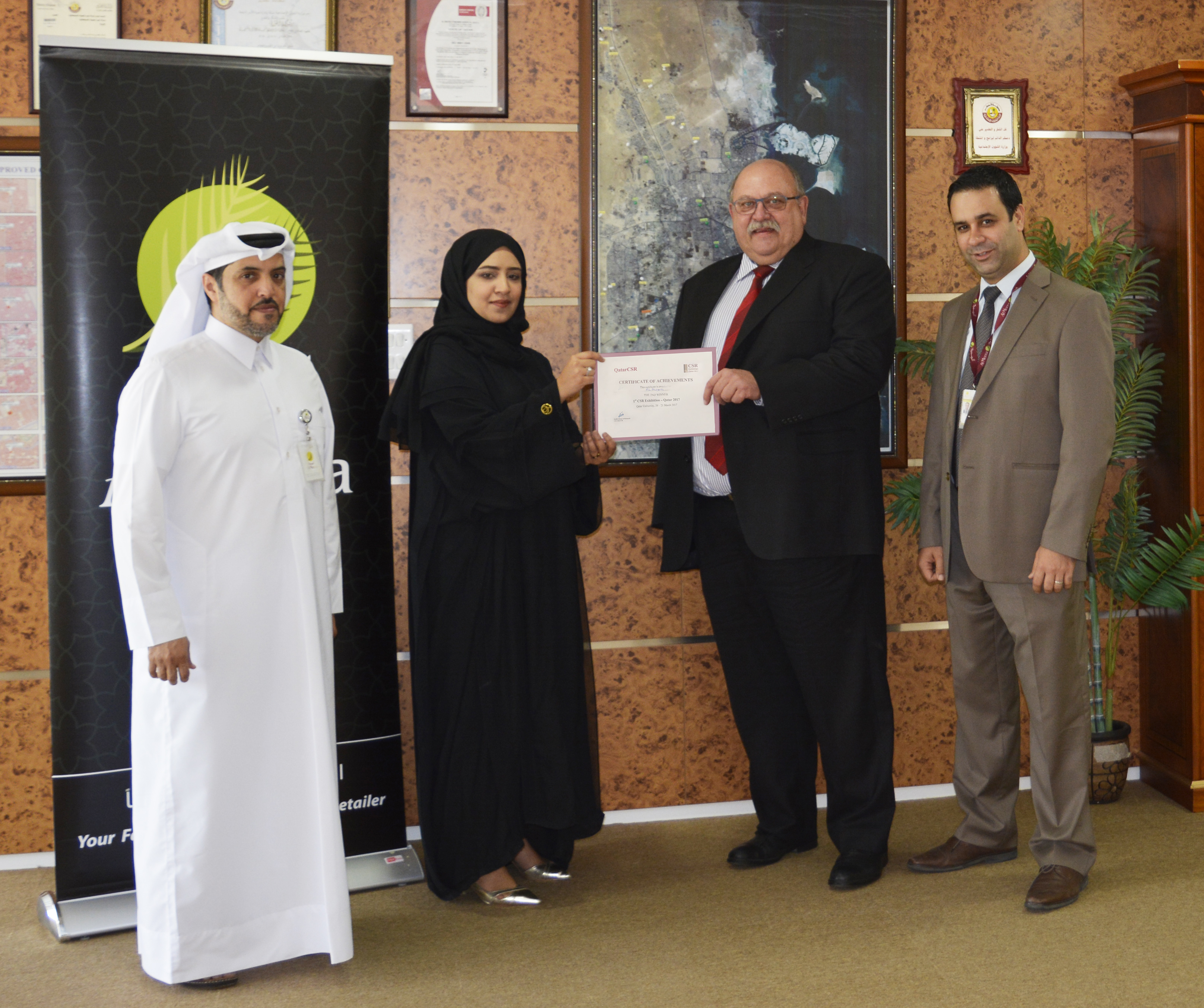 In addition to winning the Responsible Leadership award, received by Mr. Saeed M. Al Nabet, Al Meera's stand won the second place at the exhibition. The results were attained through the votes of the jury, faculty members and university students, who visited the exhibition and asked CSR-related questions to each company, in order to evaluate the top five companies accordingly, and the stands that revealed the most significant CSR initiatives. The students responsible for the Al Meera stand received the Certificate of Achievement from the voting committee of the exhibition at Qatar University.
In recognition of their hard work, the students who operated the Meera stand and contributed to the coveted win included Asma Mohammed Al-Qadi, Kawthar Abdulaziz Al-Maflhi, Amna Hussein Al Mansouri, Rawda Hamad Al Rumaihi, Sarah Al Arafa, Nour Al-Ibrahim, Najla al-Dosari and Al-Mayassa Ali.
To crown their efforts, Mrs. Sarah Al Arafa – on behalf of her colleagues – received a token of recognition from Al Meera's Acting CEO, Sales and Operations Director Cobus Lombard, Mr. Saeed M. Al Nabet, in addition to Mr. Shadi M. Shehadeh – who helped in preparing Al Meera's report. In turn, the student presented the aforementioned Meera representatives the Certificate of Achievement, for the Company's stand second place win.
An article in the CSR Report 2016 highlights Al Meera's contributions to the community over the past year, which included the celebration of the honourable values of the Holy Month, with the launch of its 2016 Ramadan special campaign. Held under the slogan "your confidence inspires us to give, in the month of giving", which offered citizens and residents 1437 consumer goods at cost price, with the aim of giving back to the community in which it operates.
The Company also maintained their keenness on spreading the culture of sports among society's various segments, which led to Al Meera championing Qatar's fifth National Sports Day with the participants in the "We Ride for Doha 2016" cycling parade at The Pearl-Qatar, with the aim of inspiring the community to lead happy and healthy lives.