08
Jun2011
Consumers to reap the benefits with cost-savings 
Doha, Qatar 08 June 2011:  In a move to further lower prices for consumers and to become even more competitive, Al Meera and Groupe Casino, a French retail chain, signed an international supply agreement that will see Al Meera exclusively selling Casino-branded products in Qatar.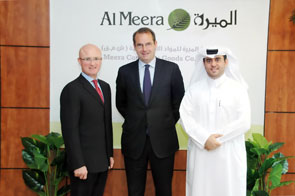 "We are extremely pleased and proud of our new partnership with Groupe Casino," said Dr Mohammed Al Qahtani, Deputy CEO of Al Meera. "With its global footprint, untarnished reputation, and access to international food suppliers, this agreement allows us to continue our expansion plans without sacrificing product quality and costs.  Customers can only expect Al Meera to get bigger, better, and more competitive over time.
A multi-format Group, ranked as the 24th largest worldwide retailer of food items, the Casino Group is one of the world leaders of food trade. Its performance, which has steadily progressed over several years, is based upon an international network of multi-formatted distribution means, including hypermarkets, and e-commerce. This "precision retailing" represents a contemporary alternative to the mass retail industry of the past.
With 11,000 outlets and employing close to a quarter of a million people, Casino is present in close to a dozen countries, and the agreement with Al Meera will give the group an additional foothold in the region.
"Al Meera is the ideal partner to come into the Qatari market with," said Mr. Patrick Lasfargues, Affiliation Business Director at Groupe Casino.
Al Meera is the leader of the Qatar retail market. Al Meera is going through a very aggressive organic expansion, and plans to open more than 50,00sqm multi format stores by the end of 2013. Al Meera operates currently 22 stores and plans to operate 40 stores by 2013 end. Al Meera network is mainly supermarket; however it plans to break into Hypermarket format in the near future.
In addition to giving exclusivity to Al Meera for Casino-branded products, the agreement will provide a global business structure to source Al Meera Private Label Products.  Al Meera's goals is to have on its shelves at least 250 self-labelled products by the end of this year, and over 1000 by the end of next year.  Casino will also support Al Meera using its international connections and networks in supplying the local chain with all international brands.  At the end, it is the consumers who benefit the most.
"With our expansion ambitions, Al Meera will stick to its values and its commitment to the community to provide high quality and competitively priced products," added Dr Mohammed Al Qahtani, Deputy CEO of Al Meera. "When the agreement comes to full effect, customers can expect prices for food items that are lower than any other competing outlet. This agreement with industry superpower Groupe Casino is a testament to our dedication to our diverse consumer base. It is obvious that this agreement would be the first step of a very fruitful partnership between both companies within the region"