29
Aug2022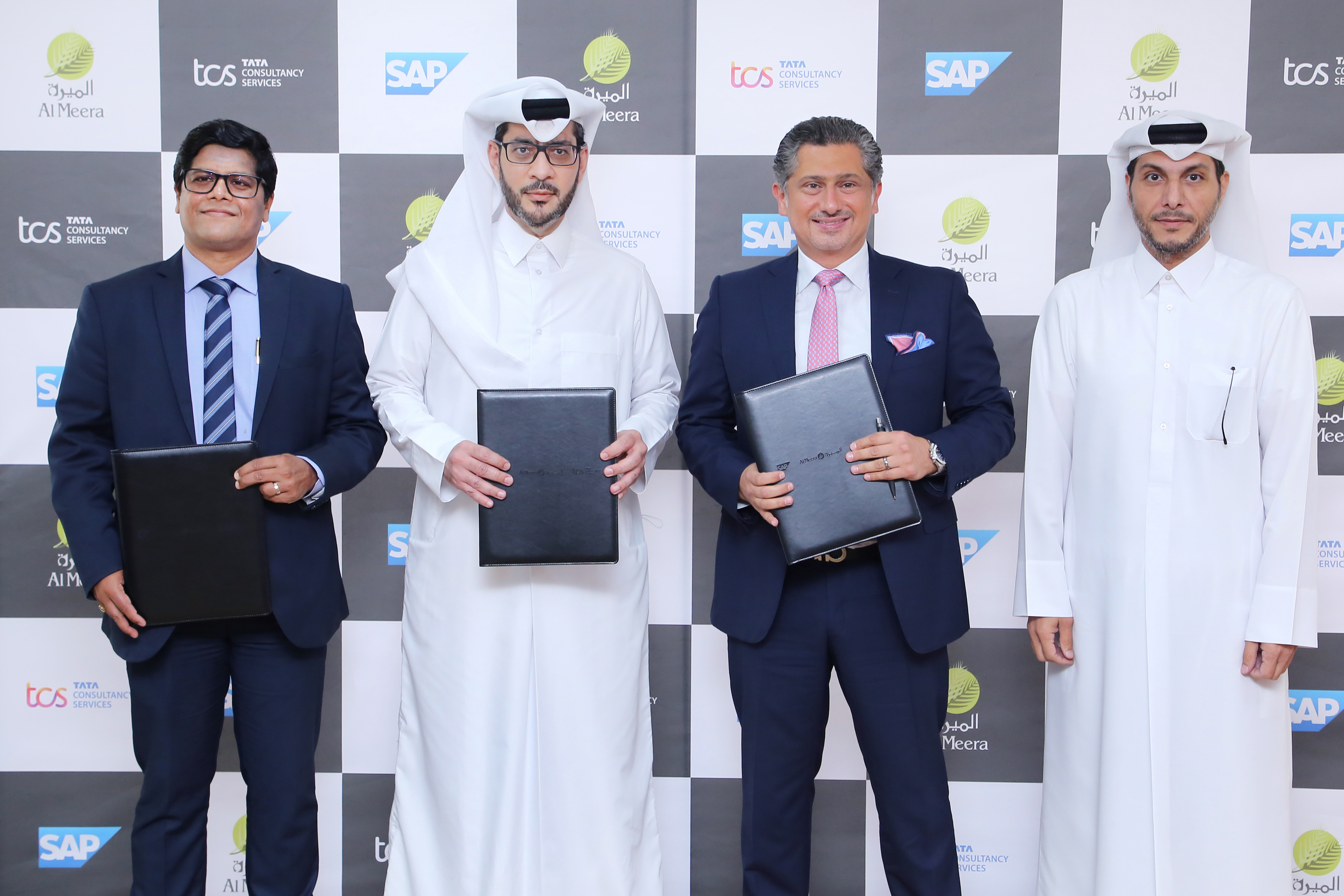 Al Meera CEO Mr. Yousef Ali Al Obaidan and Mr. Abdulaziz Almana Al Meera IT Director joined by Alaa Jaber, Managing Director for SAP Qatar and Fast Growth Markets, and Mr. Devashis Goswamy, Country Head, TCS Qatar at the agreement signing ceremony in Al Meera Head Office, Doha.
Doha, Qatar  — Qatar's largest retail network, Al Meera Consumer Goods, has signed a partnership agreement with global technology company SAP SE (NYSE: SAP) and implementation partner Tata Consultancy Services (TCS) to deliver cloud computing solutions that will facilitate its expansion plans, while also significantly enhancing customer and staff experience at its existing 60 stores. 
Under the agreement, Al Meera will accelerate its journey to the cloud. It will also implement solutions including S/4HANA – SAP's enterprise resource planning (ERP) solution – that will run on hyperscaler Microsoft Azure. The end-to-end digital transformation project will enable Al Meera to leverage the advantages of cloud computing and automated business processes, while delivering innovative employee-management solutions and improved visibility and control over all operations and activities. 
On the sidelines of a signing ceremony for the transformation project, Al Meera CEO, Mr. Yousef Ali Al Obaidan, said "As we continue to expand our operations locally and regionally, we remain committed to ensuring exceptional customer experience at each individual outlet in our retail network. We focus on delivering exceptional variety, quality, service, cleanliness and value for all our customers, wherever they may be. S/4HANA supports this approach as it provides 360-degree visibility on all areas of our operations at all times and establishes greater control over our day-to-day performance. Moreover, S/4HANA enables us to rapidly share information on retail inventories, supply chains, human resources and other business processes across the expanding network. In this way, we can make informed decisions quickly to ensure we are continually meeting the needs of our customers and staff." 
The retail giant selected SAP and TCS – a leading global IT services, consulting and business solutions organization – for the project based on both parties' technological expertise and track record in the retail sector, as well as their regional knowledge and on-ground resources. Moreover, the choice of RISE with SAP satisfied Al Meera's requirement for operational continuity alongside a rapid, sustainable transformation.
Also present at the signing ceremony, Alaa Jaber, Managing Director for SAP Qatar and Fast Growth Markets, said, "Al Meera's digital transformation is aligned with the Qatar National Vision 2030, which fosters adoption of advanced technologies and economic competitiveness and diversity. We have been working closely with Al Meera and TCS to find the best tailored SAP solutions to increase efficiencies, reduce total cost of ownership, enable greater visibility and control over all areas of operations, and to streamline the IT functions so that the retailer can remain focused on its core business. The implementation will ensure Al Meera's operations are scalable when needed, and flexible enough for continuous enhancements to be made. We are very excited to be part of Al Meera's Digital transformation journey and to be a main player in Al Meera's expansion plans that will always positively reflect on the overall consumer shopping experience".
Devashis Goswamy, Country Head, TCS Qatar said, "Using our domain knowledge,  consulting-led approach and advanced technology capabilities TCS will help build an integrated platform that will provide Al Meera with a unified, real-time, process-centric view across its retail operations. This will enable better price and promotion decisions, ensure availability of the right product mix in stores to meet customer demand, helping Al Meera establish competitive differentiation and drive growth."