28
Feb2018
Doha-Qatar –28 February 2018: Al Meera Consumer Goods Company QSC, has been recognized for its exemplary efforts to bring forth a number of economic initiatives designed to empower entrepreneurs in the country and contribute to Qatar's economic diversification.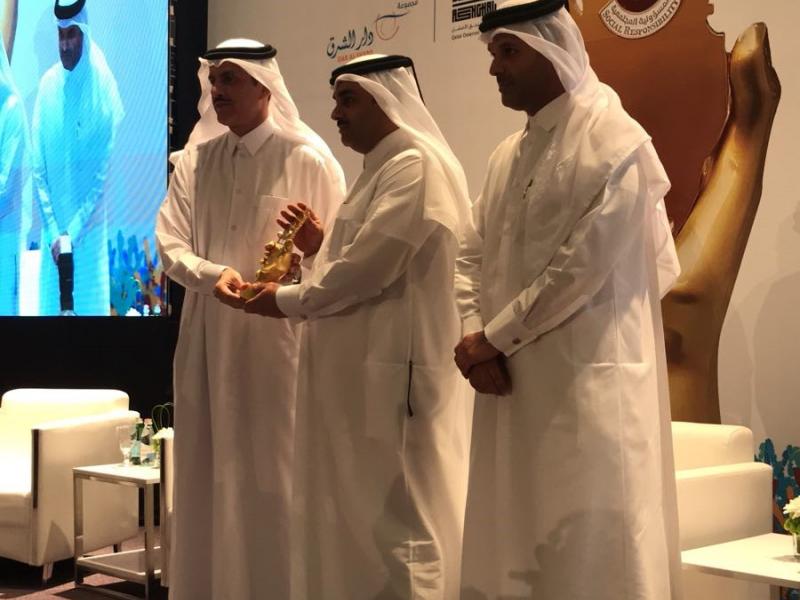 Al Meera was awarded during the 5th Social Responsibility Conference, organized by Dar Al Sharq under the patronage of His Excellency Sheikh Abdullah bin Saud Al Thani, Governor of Qatar Central Bank.
Al Meera was honored for its efforts to support startups and entrepreneurs by launching the "National Product" initiative, in collaboration with Bedaya Center and the Ministry of Economy and Commerce (MEC). 
Under this initiative, local producers and startups in the food industry were offered with prominent shelf space at its Gulf Mall shopping center, thereby providing entrepreneurs in the country with a premium platform to introduce their products to the market and sell them to consumers.
Expressing happiness at receiving the award, Mr. Salah Al-Hammadi, Deputy CEO at Al Meera, said:
"We at Al Meera believe that social responsibility is an essential human and national obligation. It has to be seen as one of the pillars of sustainable economic development. It is paramount that organizations across Qatar make concerted attempts to integrate social responsibility into corporate leadership. This would significantly change the dynamic of how we do business."
"Our Vision is to be front runners of communal responsibility in the country, aspire to be role model. We already have in place the relevant initiatives, programs and projects of community leadership. These are aimed at developing self-responsibility in community initiatives and leadership building. Our values of responsibility, leadership, originality and cooperation are well-aligned to the overall Vision 2030 of our country."
The National Product' initiative is  Al Meera's commitment to supporting Small and Medium Enterprises (SMEs) by providing them with an ideal platform, through which they can establish and grow their presence in the marketplace and usher in a new wave of opportunities for cooperation and business partnership.
The 'National Product' initiative is Al Meera's latest effort in its pursuit to support local producers and activate the SMEs contribution to the economic diversification of Qatar. 
In late 2016, the Company signed a MOU with Qatar Development Bank which identified a range of areas for partnership, including supporting emerging local startups in the grocery and consumer goods niche, as well as extending quick-access support to them across a range of facilities, such as finance, support and advisory services, through QDB.