11
Apr2018
Doha-Qatar –11 April 2018:  In pursuing its strategic plan to bring to reality Al-Meera's  unique retail experience to all areas of Qatar, Al Meera Consumer Goods Company (Q.S.C.) continues its ambitious expansion by announcing the opening of its 49th store, in Aba Al Heran, Qatar.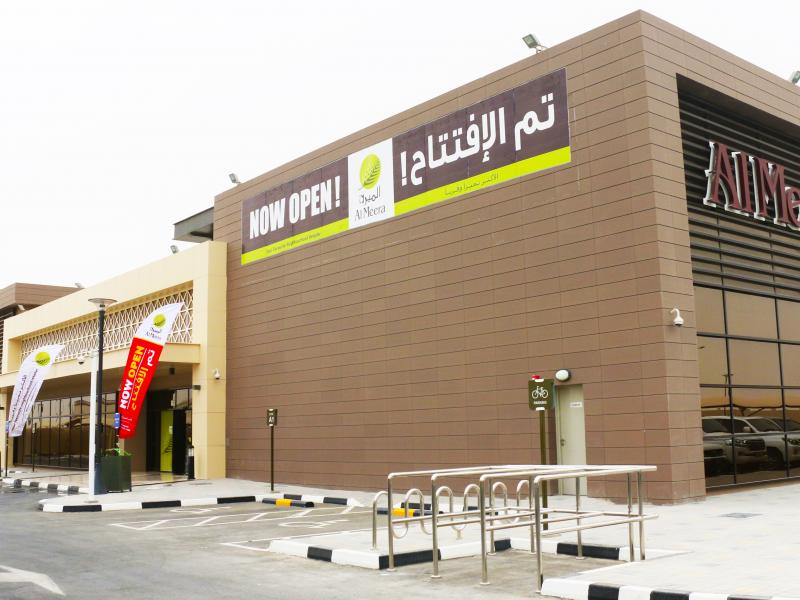 The opening took place in the presence of Mr Raed Al Khalaf Chairman and Managing Director at Al Raed Trading Co, Dr Mohammed Khalifa Al Kubaisi, Head of Training and Management Development in The Awqaf Ministry and Qatar TV presenter Hassan al Saai alongside Deputy CEO of Al Meera, Mr. Salah Ahmed Al-Hammadi, and a number of executives.
Measuring 2534.12 m2, the shopping center is designed to cater to the family shopping experience. It adheres to world-class standards at the service of consumer needs, and will provide the area's residents with all their requirements under one roof; the mall was built in line with the Company's objective of being the consumers' 'Favourite Neighbourhood Retailer'.
Al-Meera Supermarket is equipped with modern interior designs and shelving installations, state-of-the-art technology and facilities, along with providing the most popular fresh sections.
Commenting on the occasion, Eng. Salah Al-Hammadi, Al Meera's Deputy CEO, said:
We are truly pleased to introduce Aba Al Heran's residents with the answer to their shopping needs and to play a significant role in the real-estate development of the area, which has been highlighted in the State's country-wide urbanisation plan. As with every new branch that Al Meera opens, the Aba Al Heran branch is designed to exceed consumers' expectations with a distinctive, integrated shopping experience that sets a benchmark for retail chains across the country."
 "The launch of our new shopping center also marks a significant progress in Al Meera's expansion plan and further widens its reach to more regions in the country, especially ones where there is potential to improve the retail offering to the community. This is the perfect occasion to reaffirm our commitment to continue providing consumers with an unmatched shopping convenience and best-in-class services, as well as to advance our goals of contributing effectively to the achievement of the Qatar National Vision 2030."
The opening of Aba Al Heran branch follows the launch of Al Meera's latest state-of-the-art stores throughout Qatar, as part of its plan to introduce a number of new shopping centers to consumers across regions that are witnessing a population boom, or those that will benefit from increased customer choice. Al Meera is currently working on the establishment of more branches in locations that have been carefully chosen in close coordination with the Ministry of Municipality and Environment (MME) to further contribute to the development and urbanisation of more districts of Qatar. 
The ambitious expansion plan has been set in motion as an answer to Al Meera's strategic research and its mission to continue serving the diverse communities in Qatar wherever they are, while effectively contributing to the urban development of the country.