14
Dec2016
Concluding its 11th anniversary celebration on a high note, Al Meera Consumer Goods Company QSC (Al Meera) held its final Grand Raffle Draw on Tuesday December 13 at its Bu Sidra Branch, where 301 lucky customers were chosen to receive valuable prizes. Following the success of anniversary's first draw, which witnessed a massive turnout of shoppers and contestants, the final draw brings the number of winners to 601 to claim up to QR 1.1 Million worth of vouchers, including 11 charmed customers claiming the grand prize of QR 11,111 each.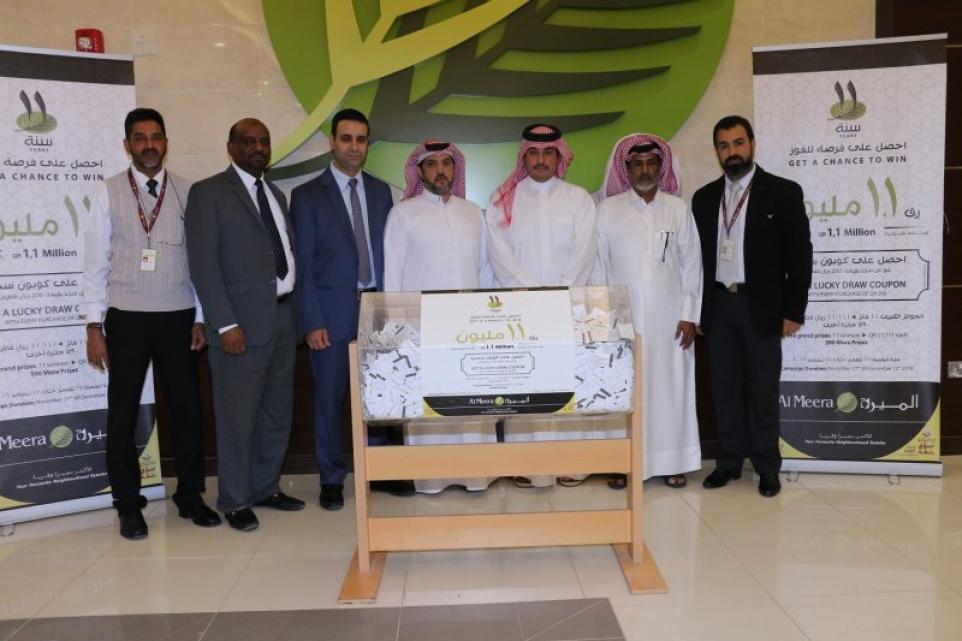 Al Meera's 11th anniversary celebration kicked off on November 27th, with the launch of a Grand Raffle Draw that granted consumers shopping at any of Al Meera's 40 stores across the country, to get one raffle coupon for every QR 200 spent. Until December 12th, Al Meera customers used their coupons to enter in the raffle draws for a chance to win one of 590 shopping vouchers as well as the opportunity to become one of the lucky few walking away with QR 11,111.
Al Meera's Grand Raffle Draw winners were selected in the presence of the Ministry of Economy and Commerce representative. Both draws saw the participation of a huge number of customers, who were excited to be a part of Al Meera's anniversary celebration and earn more 'value for money' on their purchases through the wide variety of in-store promotions made available during the campaign, as part of the Company's continuous efforts to share its blessings and give back to the community it serves. Al Meera is currently distributing prizes to the 300 winners announced during the first draw.
Through its '11th anniversary' Grand Raffle Draw, Al Meera is also celebrating the Company's achievements in 2016, which have further driven its growth and expansion plans and continued to make a tangible difference in the shopping experience of consumers across the country and contribute to the real estate and urban development of its various regions.