02
Mar2016
Al Meera Consumer Goods Company (QSC) recently disclosed its annual financial statements for the year ended December 31, 2015, with a record-breaking growth in its retail sales and leasing net profits.
Sharing the company's Key Performance Indicators (KPIs) with stakeholders, Dr. Mohammed Nasser Al Qahtani, Al Meera Deputy Chief Executive Officer said: "In 2015, Al Meera's retail sales (core business) amounted to a record-breaking QR 2.45 billion, a 12.5% jump over 2014, with the segment's net profit growing by 33.3% during the same period, reaching QR 149.3 million compared to QR 112 million in 2014." 
He added: "The Company's QR 44.5 million leasing segment net profit also shows a 20.6% increase over the previous year's QR 36.9 million. Meanwhile, the Group posted net profit attributable to owners of the Company of QR 162.1 million in 2015 and Al Meera's Board of Directors has recommended distributing a cash dividend of QR 9 per share, which is equivalent to 90% of the nominal share value."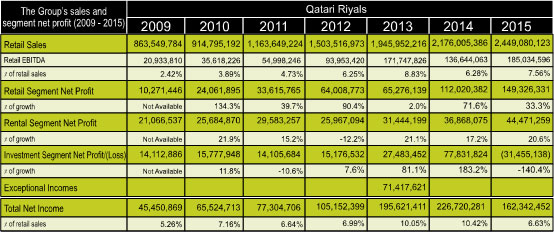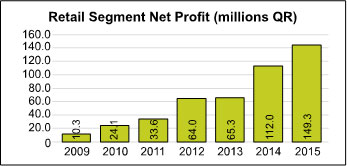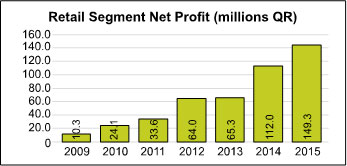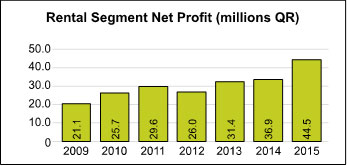 Al Meera's latest financial results are released as its expansion plans continue to serve all areas of the State, with the establishment and provision of ten (10) brand new branches that were opened across the country in 2015. Since adopting "Your Favourite Neighbourhood Retailer" slogan, the Company has also been working at full capacity to realize the motto as it started renovating its existing branches with a new modern design, while putting the interests of the local community and its shareholders first and foremost.
In this context, Dr. Al Qahtani said: "2015 was the year of celebrating the tenth anniversary of the company's founding, since which Al Meera has managed to strengthen its position as one of the main pillars of the national economy. Al Meera's status and leadership have been translated into a slew of awards and certificates that it reaped in 2015; a year that, in this regard, can be described as the year of harvest".
He added: "The application of the company's "Your Favourite Neighbourhood Retailer" slogan required renovation, development, and expansion plans that resulted in the operation of nine (9) new shopping centers located in different regions across the country, in addition to Al Meera's Gulf Mall branch entering into the operation phase. The company is also working to add fourteen (14) new shopping centers in the coming period. We here refer to the progress made in execution works in five (5) there of that are due to be completed in 2016. 2016 will also see the opening of a shopping center in Al Muzn Mall in Oman. With God's blessing, we will continue our quest for excellence and our contribution in the achievement of the country's economic growth and will be close to our customers wherever they may be".
Al Meera did not stop at that stage of expansion. Emanating from its strategic vision to serve all areas of the State, the Company has signed a Memorandum of Understanding (MoU) with Lusail Real Estate Development Company for the operation and management of two shopping centers in Jabal Thuaileb and the District's Northern residential villas. Al Meera's expansion works are carried out after careful studies have been conducted that took into account Qatar's urbanization plan, with a firm belief that it can play a key role in contributing to the real estate development of the country's various regions.