20
Dec2016
MoU, signed on 19 December 2016, to strengthen cooperation between the two signatories 

QDB will support the development of startups that are propped up by Al Meera

For its part, Al Meera will promote products by local SMEs, which are supported by QDB, regionally across their outlets 
In the interest of supporting local entrepreneurs, Qatar Development Bank (QDB) and Al Meera Consumer Goods Company signed a Memorandum of Understanding (MoU) to strengthen cooperation through the exchange of industrial information and personnel expertise as well as provision of support, through funding, to the small and medium-sized enterprises (SME) sector in Qatar.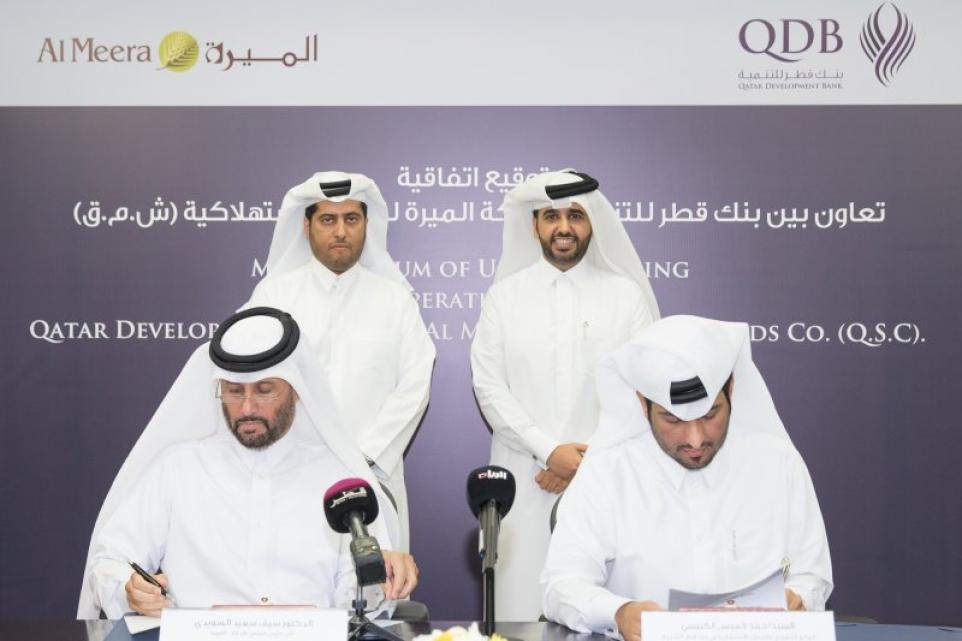 On 19 December 2016, the signing of the MoU was held at QDB's headquarters. Serving their respective organizations as designated signatories were Director of Advisory Services, QDB, Hamad Khamis al-Kubaisi, and Vice Chairman, Al Meera Consumer Goods Company, Dr. Saif Said al-Sowaidi.
Also in attendance were Chief Executive Officer (CEO), QDB, Abdulaziz bin Nasser al-Khalifa, and Chairman of the Board of Directors, Al Meera Consumer Goods Company, His Excellency Sheikh Thani bin Thamer bin Mohamed al-Thani, along with a number of high-ranking officials from both organizations. 
In order to mutually benefit from the other organization's respective industrial expertise, the MoU identified a range of areas for partnership, including strengthening cooperation in the areas of exchange of information, personnel and other resources. Most notably, through the MoU, QDB aims to support emerging local startups – supported by Al Meera – by extending quick-access support to them across a range of facilities, such as finance, support and advisory services. Furthermore, another key highlight of the MoU will see that the two organizations work together closely to promote products of local SMEs – supported by QDB – across Al Meera outlets regionally. This cooperation is engineered to help local brands achieve exposure of global marketplaces, so that they may achieve higher scales of competitiveness.
Commenting on the impending cooperation under the MoU, Business Localization Support Manager, QDB, Bader al-Kuwari said: "With the signing of the MoU, QDB has successfully engineered yet another initiative that seeks to facilitate the promotion of local entrepreneurs and the Qatari private sector across the globe. In Qatar National Vision 2030, we find our organizational mission cut out for us – QDB will continue to dedicate itself to the wholesome growth of the economy through the provision of developmental services, including advisory and financing services to local entrepreneurs and SMEs."
He added, "We are greatly delighted to have entered into a cooperation with a local organization the size of Al Meera Consumer Goods Company. Through this agreement, we will work together to provide a wide range of assistive services to local SMEs in their production of exportable goods and collaborate to promote their final products globally, so that they may sharpen their competitive edge and grow as entrepreneurs."
Vice Chairman of the Board of Directors, Al Meera Consumer Goods Company, Dr. Saif Said al-Sowaidi said: "The signing of this significant Memorandum of Understanding between Al Meera and QDB marks a momentous step forward in the course of diversifying our national economy and supporting local SMEs and startups, both of which go hand in hand and work towards the socioeconomic development of Qatar and its people. By supporting entrepreneurship and nurturing Qatari startups in the grocery and consumer goods niche through the first-of-its-kind incubation and support service in the State of Qatar, Al Meera and QDB are effectively contributing to the realization of the objectives of the 2017-2022 National Development Strategy and the overarching Qatar National Vision 2030, as well as putting into place a paradigm-shifting setup and acting as role models for large enterprises in Qatar, in terms of proactively supporting local startups and nurturing entrepreneurship."
He added: "Al Meera is truly honored to play a pivotal role in promoting Qatari products by providing entrepreneurs with an established platform for marketing their products and facilitating the integration of incubated SMEs into its value chain. We are looking forward to a mutually-beneficial partnership with QDB that will leverage both of our expertise and resources, in addition to the nation-wide economic impact that our agreement is set to put into motion."
The agreement also included a scope for the increase in stocking of Qatari products across shelves and coverage of trade promotion programs by Al Meera. Furthermore, through the signing, a program will be created whereby SMEs, to be incubated at a special section of Al Meera, will benefit from developmental facilities and assistance services. The memorandum particularly encourages joint activities between the two signatories that would promote sales of local products through attracting a higher volume of interested buyers and distributors.
Al Meera Consumer Goods Company (Q.S.C) is Qatar's leader in the retail industry. Since 2005, it has been committed to providing quality products and services at reasonable prices in order to meet the ever-changing needs of its customers in a responsible and receptive manner.
Through partnerships with likeminded organizations, QDB seeks to accelerate the development of the Qatari private sector, so that it may inculcate diversity in the economy and build a sustainable, competitive economy, as envisioned in the national strategic development plan – Qatar National Vision 2030.