14
Feb2018
In continuation of its commitment to promoting a healthy lifestyle among its staff and the community and as a part of its Corporate Social Responsibility program, Al Meera Consumer Goods Company (Q.S.C), celebrated Qatar's 7th National Sports Day (NSD) by supporting various competitions and events held at the Aspire and Katara Cultural Village.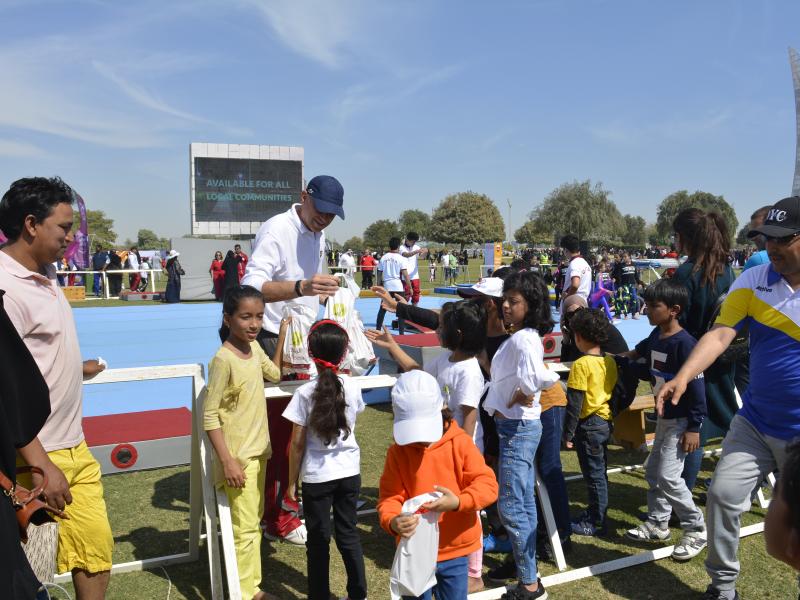 Al Meera's role in the 2018 National Sports Day activities revolved around offering sports enthusiasts and participants of the event fresh fruits and water at different locations throughout Aspire and Katara.
Alongside Al Meera, Aspire and Katara Cultural Village offered its visitors an exhilarating atmosphere for the National Sports Day, along with a diverse selection of events and sport activities.
The program featured a variety of sporting activity presented by Qatar Olympic Committee Gymnastics Federation coaches, through which visitors were briefed on the importance of daily exercise in leading happy and healthy lives. Moreover, the NSD program hosted physical fitness and sports training sessions for the public and kids.
 "Qatar National Sports Day reflects the vision of the wise leadership for building individuals and society. Its key message is that sports should be a part of the culture and life of individuals and society, and one aspect of investing in the human element," said Al Meera Deputy Chief Executive Officer Mr. Salah Al Hammadi.
Mr. Hammadi added: "Al Meera is always eager to participate in the NSD along with all entities to raise awareness of the importance of sports and its great impact on the rise and progress of communities, as well as encouraging people to keep fit and follow a healthy lifestyle."
Al Meera's participation in NSD, he noted, translates a vision of partnership with various entities across the country to promote sports to build up healthy individuals capable of contributing to the development and progress and the achievement of Qatar National Vision 2030.
Al Meera also supported Make A Difference's (M.A.D) Triathlon's event – Katara Aquathlon 2018, with fruits, snacks and water, of which the event offered sports fanatics a fun, friendly and unique 'swim & run' experience while racing within the charming views of Katara Cultural Village, with a route epitomizing the Qatari culture and traditional architecture. The event was supported by Qatar Cycling and Triathlon Federation, and registration was free for all.
M.A.D is a community based group of individuals that promote sports by means of triathlon. As a club, it supports the vision of Qatar National Vision 2030 to increase community participation in sports and physical activity to increase sports talent development.