06
Dec2016
• 11 lucky customers walking away with a grand prize of QR 11,111 each
• 300 total winners of prizes in the first raffle draw and 301 will be chosen in the second draw 
• A wide range of in-store promotions in all Al Meera stores 
Crowning yet another trendsetting year in business, during which the Company continued to achieve further growth and cross farther milestones, Al Meera Consumer Goods Company QSC (Al Meera) is celebrating its 11th anniversary with Grand Raffle Draws that will have 11 lucky winners walking away with grand prizes of QR 11,111 each, in addition to 590 more prizes for Al Meera shoppers.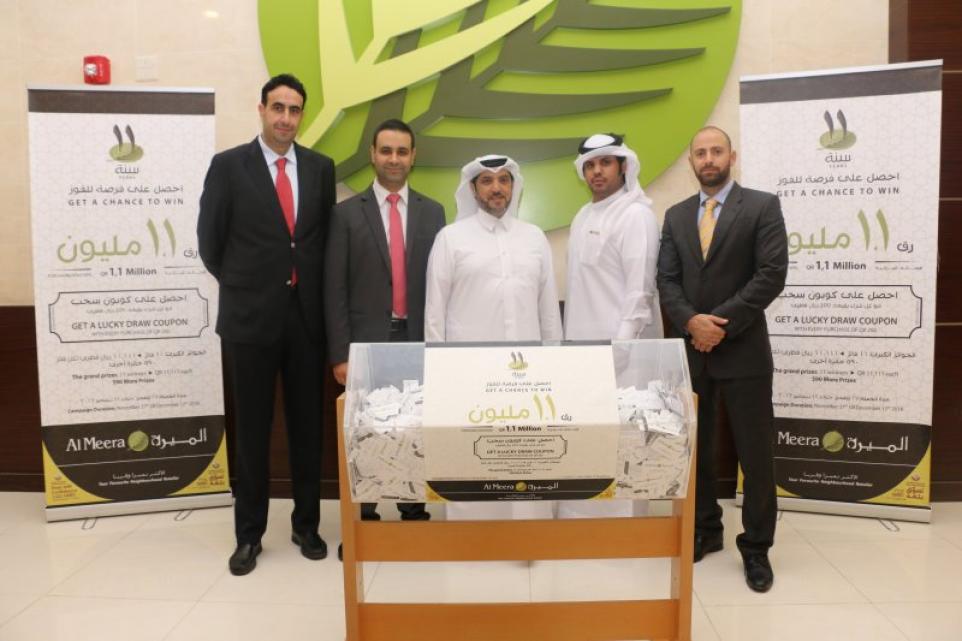 With a massive turnout of customers and contestants hoping to become one of the campaign's total of 601 winners, the anniversary's first draw – held on Monday – saw the winning of 300 charmed customers who claimed more than QR 500,000 worth of prizes, leaving Al Meera shoppers anticipating its second and final draw, which will be held on the 13th of December at the Company's newly opened Bu Sidra Branch. 
Winners are chosen in the presence of the Ministry Of Economy And Commerce representative.
Congratulating the winners of the first raffle draw, Al Meera stated:
"Since its inception back in 2005, Al Meera has grown to become a staple of the Qatari economy and a key player in the country's urban development, in addition to transforming retail shoppers experience across its regions. As well as demonstrating our commitment to the faithful execution of our expansion and growth plans, we have contributed to the realization of the Qatar National Vision throughout the years, by supporting each and every one of its pillars through our sound policies, market-leading innovations that pour into our beloved country's economic development, and a number of community partnerships and initiatives that are a cause of pride and determination to maintain such efforts."

Al Meera added: "This year, we wanted to celebrate our 11th successful year in business by sharing our blessings with our valued customers while continuing to provide them with the best shopping experience in Qatar. This translated into a number of Raffle Draws on coupons, fully sponsored by the Al Meera suppliers, and a wide range of in-store promotions that are bound to 'make the day' for hundreds of customers as well as make a tangible source of joy for a lucky few. Such promotional offers are a gesture of appreciation to our customers for being loyal to Al Meera, which is why we are really thrilled about the scores of shoppers who continue to choose Al Meera as their favourite neighbourhood retailer, and the huge interaction they are having with our 11th anniversary Raffle Draw and promotions. We also want all of our loyal customers to know that Al Meera stakeholders and customers will always be our number one priority and the Company will save no effort to bring the most innovative technologies, equipment and setups to Qatar and will continue to pursue its medium and long-term expansion plans, bringing our trademark shopping experience that brings shoppers 'true value for money' to shoppers in every corner of the country's various regions." 
In addition to the 11 winners who will be taking home QR 11,111 each, Al Meera's 11th anniversary celebration has 590 other prizes in store for its customers. Consumers shopping at any of Al Meera's 40 stores across the country, earn one raffle coupon for every QR 200 spent. Customers can then use their coupons to enter in the raffle draw for a chance to win shopping vouchers at Al Meera stores. Entry coupons will be accepted until December 12th and the remaining 301 winners will be announced on the 13th of December at Al Meera's Bu Sidra Branch at 11:00 am. 
To sweeten the deal for shoppers during the anniversary celebration and provide them with more 'value for money' on their purchases, Al Meera's supermarkets are also holding a wide variety of in-store promotions during the campaign. The anniversary draws on coupons and in-store promotions are just two of many special offers that the Company hold all year round, demonstrating its belief that its customers are not just shoppers, but active partners in Al Meera's success.
Through this Grand Raffle Draw, Al Meera is also celebrating its many achievements in 2016, including the strides the Company has made in bringing its expansion plan to fruition. Al Meera's Bu Sidra Branch, where the raffle draws are held, is the latest achievement to materialize as part of Al Meera's '14 shopping centers' expansion plan, announced in 2015.
In addition to the Bu Sidra branch, Al Meera will be opening four new shopping centers in North Sailiya (Al Miarad), Al Wakra (West), Um Salal Ali, and Leaibab 2, built on a covered of 4,000 m2, 2,667 m2, 4,014 m2 and 5,093 m2 respectively, which are set to open their doors to consumers in the soon future.
Al Meera's faithful execution of its expansion plan reflects the Company's strategy to be present in all the regions and residential communities in the country and improve the shopping experience of customers through the provision of a wide range of products, while following the highest international standards for quality assurance in processes, procedures and services, synonymous with its motto of being everyone's 'Favourite Neighbourhood Retailer'.