21
May2017
As a testament to the Company's unwavering commitment to quality, best practices and high standards across its various operations, the Supply Chain Department of Al Meera Consumer Goods Company (Q.S.C) has recently been awarded the ISO 9001:2015 certificate by Bureau Veritas Certification Holding SAS – UK. 
Such a feat comes in recognition of the Company's quality management and risk analysis for the activities of its Supply Chain department and Warehouse management – in compliance with the international standards under Mr. Hanif Parker, Al Meera's management representative. The remarkable achievement marks the first time in Qatar that a Company in the retail sector claims this sought-after certification.
During the ceremony, Bureau Veritas Country Chief Executive Mr. Salim Kseib, presented the award to Al Meera Acting CEO Mr. Cobus Lombard, Commercial and Acting Supply Chain Director Mr. Karim Noui, and other senior officials at Al Meera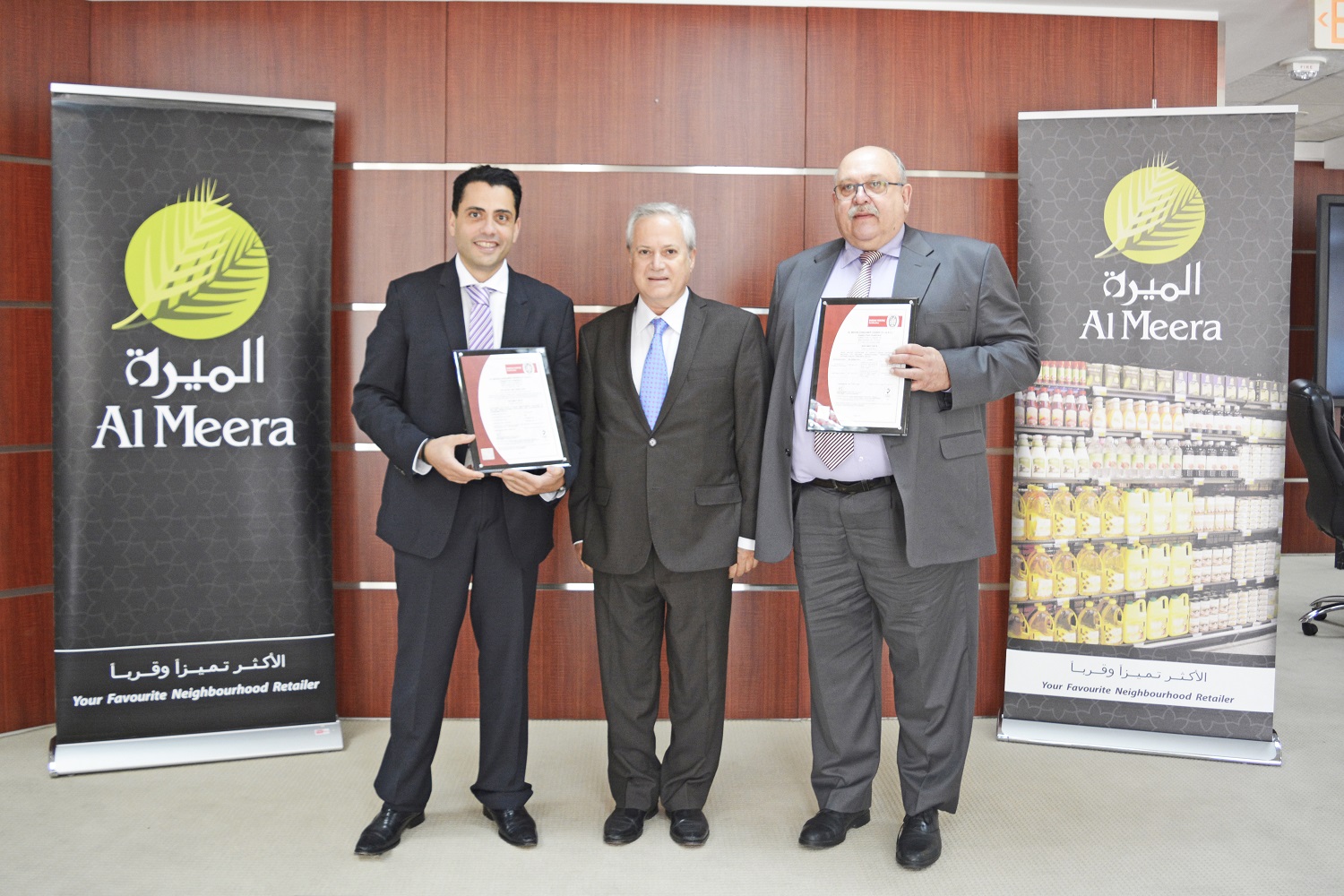 The award comes in line with Al Meera's dedication to delivering quality that delights its customers, increases shareholder value, and reflects the craftsmanship of its employees in faithfully implementing the Company's Quality Management System.
On his part, Mr. Cobus Lombard, Al Meera's Acting CEO, Sales and Operations Director added:
"This victory reflects our Supply Chain department's commitment to Al Meera's mission of continuously improving its quality management system, as well as attentively working on updating the Department's internal procedures in order to be fully-compliant with Qatar's laws, standards and best practices, with the ultimate aim of exceeding consumers' expectations, while meeting the ambitions of our partners and shareholders.
Achieving such a vision of becoming everyone's 'Favourite Neighbourhood Retailer" entails having a Supply Chain Department par excellence. The ISO 9001:2015 certification awarded to our Supply Chain Department comes to highlight Al Meera's diligent execution of the department's functions, and is a token of reassurance to our customers and partners that we strive for quality and high standards in all aspects of our operations."
To implement a Quality Management System that achieves Al Meera's vision and objectives, the Company maintains high production standards to guarantee product quality, optimizes storage facility to decrease costs and drive profits, continuously trains employees to boost their performance and sense of responsibility, and provides accurate data to mitigate risk and increase potential business opportunities.
Al Meera's Quality Management System also includes implementing an efficient stock replenishment plan that meets customers' needs, purposeful forecasting and planning for timely purchasing and production, all while continually improving the system based on the use of efficient business processes and customer surveys.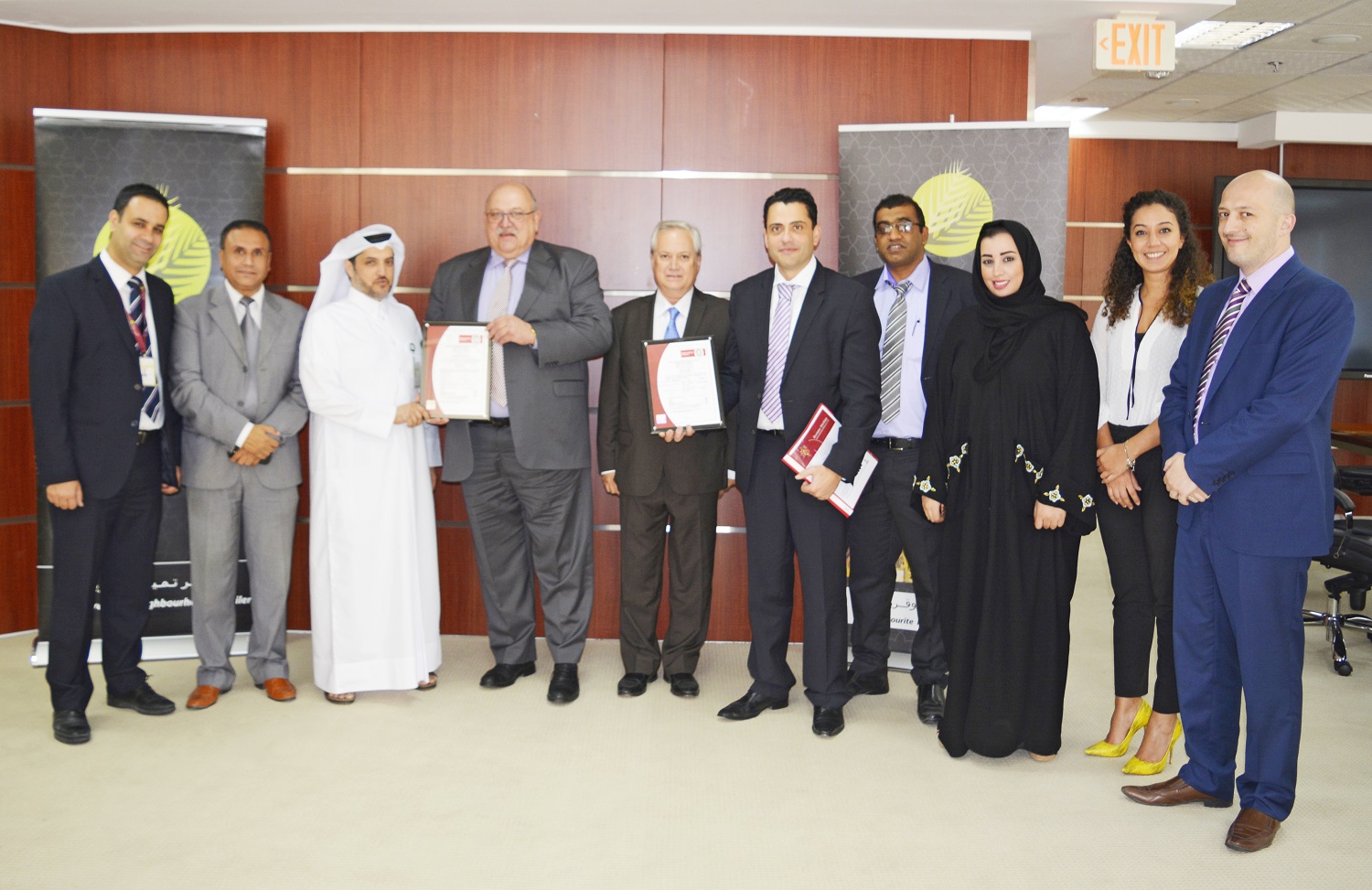 Other ISO-Certified Al Meera departments include the Company's Commercial Department, which is ISO 9001:2008 certified by Bureau Veritas Certification Holding SAS in the UK. The certificate verifies Al Meera's adherence to international standards in contract management, category review, and selection re-evaluation of Al Meera suppliers.
Al Meera's commitment to top-quality standards and best practices across its operations complement the retail chain's world-class shopping experience that it delivers to consumers in Qatar's myriad neighbourhoods, which is further augmented by its shopping centers' trademark modern interior designs and shelving installations, as well as state-of-the-art technologies and facilities that have become synonymous with Al Meera brand around the country. Most of Al Meera's newly opened and renovated stores also feature a selection of complementary shops, a restaurant area and small food court, as well as a dedicated parking space and other facilities that make for a truly memorable experience for shoppers.