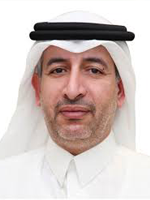 An academic background in business and administration has enabled Hitmi Ali Khalifa Al Hitmi to lead the charge at several of Qatar's iconic brands and companies.
He is the Chairman of Al Hitmi Property Development, which is one of the first real-estate developers specialized in urban regeneration in Doha. He is also a Board Member at Ali Bin Khalifa Al Hitmi & Co. and Al-Hitmi Facility Management, under the eponymous business group that has consistently seen growth since its inception in 1963..
He is currently holding a position of a Board Member at: Milaha, an integrated transport and supply-chain entity. His previous affiliations also include illustrious roles as Board Member of Nakilat, Board Member of Doha Insurance, Chairman of Al Arabi Sports Club and Barwa Real Estate, Board Member of Qatar National Bank, and Board Member of Qatar Electricity & Water Company.
In 2012, prestigious Middle East-based publication, Arabian Business, named Hitmi Ali Khalifa Al Hitmi as the World's Most Influential Arabs in its Arabian Business Power 500 rankings.