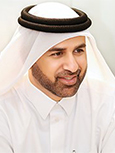 Dr Khalid Ibrahim Al-Sulaiti, Ph.D., is currently the General Manager of Katara Cultural Village Foundation and brings 20+ years of progressive experience in academia, marketing, and management positions spanning several sectors. His expertise and insights are utilized on several committees and boards.
He embarked on his career path as Director of Information and Market Relations at Qatar Exchange (1998-2000) while concurrently serving as Acting Dean of College of Business and Economics at Qatar University (1998-2001) and as Dean of Student Affairs at Qatar University (2000-2001).
Between 2001 and 2006, Dr Al-Sulaiti served as the General Manager of the Institute of Administrative Development and as Dean of Academic Affairs at the Ahmed Bin Mohamed Military College between 2005 and 2007.
From 2007 to 2009, he accepted to lead Barwa Bank as CEO of its Steering Committee, a period during which he also briefly served as General Manager of First Investment Company (2008). Further, Dr Al-Sulaiti drove the growth of First Finance Company as its CEO (2007-2012). He continues to be a Senior Consultant to Barwa Real Estate Company since 2006.
Since 2014, he has been associated with the Katara initiative; first as Manager of Katara Restaurants Company (2014-present), then as Manager Katara Hills Company (2016-present) and as General Manager Katara Cultural Village Foundation (2012-present).
A thought-leader and an innovator, Dr Al-Sulaiti graduated with a BA in International Business from the University of Bridgeport, US (1992) and obtained an MBA with a concentration in Finance from the same alma mater (1994). He was awarded the Doctor of Philosophy in Marketing by Strathclyde University, Scotland in 1997.  He was made an Associate Professor of Marketing in 2004.
Dr Al-Sulaiti's activism and contribution to nearly a dozen local entities as a committee or board member reaches beyond Qatar with his involvement in international fora. He is the President of Global Public Diplomacy Network and a Member of Beta Gamma Sigma at his former university in the United States. He has authored several papers on the banking and securities market.
Among his accolades, Dr Al-Sulaiti was named among the 500 Strongest Personalities in the Middle East by Arabian Business in 2011 and was recognized again at the Arab Tourism Oscar Award most recently in 2017.