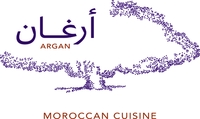 Argan offers real, authentic Moroccan cuisine setting new standards in fine dining with its wholesome culinary experience; it is a preferred venue for all those who appreciate true Moroccan delicacies.
The restaurant presents a traditional Moroccan setting, stylishly uplifted by modern elements and chic, vibrant colors. Tables and booths surround a purpose-built majlis-style seating area in the middle where you can lounge around on comfy couches with bites, drinks and shisha on its terrace area. The booths, that line the wall on one side, have mosaic detailing and from the ceiling hang star-shaped lanterns. Enjoy freshly baked Moroccan bread and authentic Moroccan mint tea, choose from wide variety of Tajines and sweets offered at this exclusive Moroccan Restaurant in Doha.
Meera Rewards Members are entitled to receive 20% discounts upon showing their Meera Rewards Membership ID.
Opening Hours: 12:30 pm -11:30 pm (Restaurant is closed on every Monday)
For further information please contact:
Tel: (+974) 4433 6666