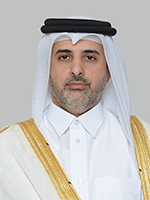 His Excellency Abdulla bin Abdulaziz bin Turki Al Subaie was appointed Minister of Municipality and Environment in November 2018.
H.E. Al-Subaie also continues as Managing Director and Chief Executive Officer of the Qatar Railways Company, having held these positions since March 2011 and January 2017 respectively.
Under H.E. Al Subaie's exceptional leadership, the Qatar Railways Company has set the benchmark for project delivery, transparency and governance, and successfully started revenue service on the Doha Metro a year early in May 2019.
His Excellency was the Group Chief Executive Officer of Barwa, Qatar's leading Real Estate Development and Investment holding Group from April 2011 until May 2014. Prior to joining Barwa, His Excellency was the Chief Executive Officer of Smeet, an affiliate of Qatari Diar Group, serving the company since its formation in 2008 until March 2011. His Excellency held various leadership and senior project management positions from 1996 to 2008 with The Qatar General Electricity & Water Corporation (KAHRAMAA), where he has managed multibillion-dollar infrastructure projects.
His Excellency is Board Member and Chairman of Executive Committee of Qatar Rail and Chairman of Al Meera Consumer Goods Company. His Excellency served on the Boards of many high-profile organizations like Qatari Diar Group, Barwa, HOCHTEIF and Qatar National Broadband Network Co. and Barwa Bank Group.
Born in Qatar in 1975, His Excellency holds a master's degree in Business Administration (MBA) in 2006 and Bachelors in Electrical Engineering (BSc) in 1996 from Qatar University.