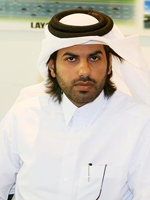 Sheikh Nayef Eid Mohammed Thani Al-Thani
Sheikh Nayef Bin Eid Bin Mohammed Al Thani is currently Manager – Public Relations and Communications at Qatar News Agency, the multi-lingual state-run news agency established in 1975.
He is represented in several company boards, including, as President at Widam Food Company, as member at Retaj Real Estate Company, and as President Tamim Trading and Contracting Company.
Sheikh Nayef holds a master's degree.