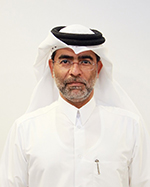 Mr. Sulaiti received his B.Sc. in Business Administration degree from USA in 1989.
He is the Deputy CEO of Finance and Administrative Affairs, Qatar Navigation Company since 1998.  He is the member of the Board of Directors of various companies such as Halul Offshore Services Company, Al Meera Consumer Goods Co., Beema Insurance company, Barwa Real Estate and Barwa Bank.
He is the Chairman of Al Meera's Investment Committee.