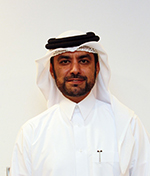 Mr. Khulaifi is a PhD Student in Marketing Service at Warwick University, UK.  He holds M.S. in Business Administration from Oklahoma City University, USA.
He has been involved as the Ministry Assistant for Administration in Supreme Council of Health since 2009.  He was the Deputy Chairman and Managing Director of Al Jazeera Network from 2007 to 2009.  He also has held the position of the Deputy Director General of Corporate Support, DAGOC from 2003 to 2007.  In addition, Mr. Khulaifi has held several positions in various information institutions and government departments; including teaching experience in the field of Business Administration at Qatar University.
He is the Chairman of Al Meera's Audit Committee, and a Member of Nomination & Remuneration Committee.