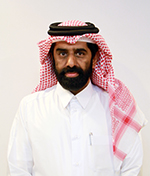 On June 2013, H.E. Dr. Saleh bin Mohammed Al-Nabit was appointed as the Minister of Development Planning and Statistics. Since June 2011, H.E. was the Secretary-General for the General Secretariat for Development Planning (GSDP), where H.E. contributed to the development of Qatar National Vision (QNV) 2030  and the National Development Strategy (NDS) 2011-2016.
Academically, H.E. Dr. Saleh bin Mohammed Al-Nabit received his Ph.D. in Economics from the University of Bradford, England, and his Master's degree in Business Administration and Economics from University of St. Louis, USA. H.E. received his Bachelor's degree in Economics (Cum Laude) from Qatar University.  Having graduated from the university, H.E. worked for a brief period for Qatar Central Bank. In 1993, H.E. worked in the Department of Economics at Qatar University, where H.E. taught many economic curricula and was named as board member in the department and the college. In addition, H.E. chaired many academic and scientific committees in Qatar University.
He is a Member of Al Meera's Investment Committee.