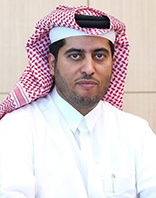 Sheikh Thani holds a Post-graduate Diploma in Management from the University of Hull in the UK, and a Bachelor of Science in Petroleum Engineering from the University of Tulsa in the US.
Sheikh Thani has administrative and practical experience in the Oil & Gas sector and currently serves as a board member in Qatar Petrochemical Company (QAPCO), in addition to his position as a member of the Board of Directors at Oryx GTL Limited. 
The previous experience of Sheikh Thani Bin Thamer Bin Mohammed Al Thani includes holding the position of Deputy General Manager of Shell-Qatar from 2003 to 2015, where his duties included supporting the project's General Manager, managing a number of other projects and responsibilities, and actively participating in attracting many competent Oil & Gas industry institutions and securing investment opportunities for them in order to implement projects for the benefit of Qatar Petroleum and Shell-Qatar. 
In the period from 1998 to 2003, he served as the Lead Petroleum Engineer at Qatar Petroleum where he managed a variety of responsibilities including setting up programmes, managing the North Field, monitoring development schemes, assessing the results of Oil & Gas Studies, preparing for studies on fields and new discoveries, participating in the development of oil fields schemes and coordinating with consultants for project preparation. 
Sheikh Thani worked as a Petroleum engineer from 1997 to 1998 and participated in a training mission for a year at the "Mobil Oil" company in the United States about the North Field in Qatar and the evaluative studies for future projects in the State of Qatar. 
Between 1994 and 1996, he served the function of Well Site Engineer, where the focus of his work was at the onshore and offshore sites for oil and gas fields, supervising the digging of wells and the establishment of production plants.