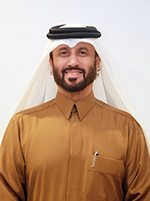 Vice Chairman  – Nominated by Qatar Holding
Dr. Saif has a PhD in Economics from Durham University, UK, has a Master's Degree from Ball State University, USA. and a Bachelor's Degree in Economics from Oregon University, USA. 
He also has a vast and dynamic professional career. Currently, Dr. Saif is the Vice President of Planning since November 2008 to present. Previous experience includes being the Executive Director of Rawafed project and the Executive Director of Serdal project at Qatar University. He served in many committees and task force teams both in Qatar and outside the country. Dr. Saif's academic record includes a list of published researches in his field of specialty.   He is the Board Member of Al Meera Consumer Goods, Co. from 2005 till now.  He is the Vice Chairman and Board of Directors of Al Meera Consumer Goods, Co. from 2007 till now.  He was the Board Member of Doha Securities Market (presently Qatar Exchange) from 1995 to 2002.  
Dr. Saif has rich experience in the education sector; where he started his career at the GCC Development Studies Centre at Qatar University in 1983, then became a Demonstrator at the Faculty of Administration & Economics in 1985 and was later promoted as a Professor.  In addition, he was the Deputy Chairman and Executive Director of Oracle System Installation and Operations, Qatar University from 2003 to 2006.  He was the head of the Follow-up Committee for the Nomination of Teaching Staff at Qatar University 2003-2005 and member of Qatar University Senate from 1995 to 2003. At the present Dr. Saif is the managing lead for two very ambitious projects at Qatar Universities: Strategic Planning and Institutional Accreditation.
He is the Chairman of Al Meera's Tenders & Auctions Committee, and a Member of the Audit Committee.